---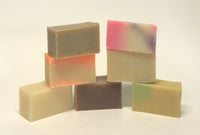 Handmade Soaps - Unwrapped
While supplies last and will be updated weekly.  Sometime we have soaps that are just a bit underweight to be sold with our regular soaps (4.5 - 5.5 oz).  Still great soap, and a heck of a deal!  
 If cart does not allow you to add more, it means we've sold out.
3.5 - 4.5 oz.

Amazing Ingredients!
Saponified Oils of Palm, Coconut & Olive Oil. Essential &/or Fragrance Oils, may contain herbs, jojoba beads, oats.
Exact Ingredients list will be included with each soap.